Continuing Education Can Do Flexible Credentials Better than Its Competitors
Today's higher education consumer has more choices than ever before. While the traditional degree space is still owned exclusively by accredited postsecondary institutions, the greatest area of growth—non-degree education—is becoming crowded. Bootcamps, MOOCs and other enterprises are recognizing the opportunity that exists in the continuing and professional education space—and they're moving in fast!
Google is a new face in the education crowd (relatively speaking), but the company has a career certificate program that offers highly-affordable, short-term learning opportunities that lead directly to the labor market. And it's being lauded as a powerful change agent in upskilling and reskilling. A survey by Coursera (Google's platform partner) found that 82% of Google certification earners reported a positive career outcome within six months of completing their program.
Google's success shows that the market is ready for high-quality, workforce-oriented short programs designed to create flexible pathways to careers for learners. This presents an exciting opportunity for higher education institutions—especially since many already have a unit on campus focused on this exact space.
New Entrants are Making Education Their Business
By most definitions, Google isn't a learning provider. They, like many companies with the capital and willpower to do so, recognized higher ed's drooping enrollments as a gap to be filled—one it was clear many institutions didn't have an immediate plan to address.
Put simply, the free market sees many institutions' aversion to change as something to be capitalized on.
Your Competitors are Leveraging Flexibility
Alternatives to traditional higher education are being seen as closing the digital skills gap with training, tools and expertise at a fraction of the cost of traditional programs. On average, a Google career certificate costs around $240 and takes less than six months to complete. It's flexible, affordable learning—which learners aren't getting from traditional degree-based programming.
The labor market is also eager to fill the growing skills gap, and most business leaders say they're likely to direct resources towards upskilling and reskilling workers to help innovate.
Continuing Education Can Deliver the Flexibility Learners Crave
Flexibility, affordability and innovation—these are what Continuing Education and Workforce Development units do best.
Google and other free market rangers are only now cashing in on a model that's been the M.O. of non-credit education for eons. The difference is that Google has prioritized flexible learning modalities and credentials, while many traditional institutions still appear to be on the fence about them.
CE Can Control the Alternative Credential Space
CE units have a firm grasp on non-traditional education and are more than capable of taking back the lion's share of the alternative credential market, provided they have the resources to do so.
Non-credit units need support from senior leadership when looking at microcredentials, which requires thoughtful conversation and preparation. But when the value of alternative credentials can be made clear, non-credit units are able to scale their role at the institution while gaining the edge over competing providers.
Marc Austin, who until recently served as Executive Director of Professional Education and Academic Ventures at George Mason University, said the non-credit unit's use of microcredentials has been instrumental in their rise throughout the institution.
"Continuing ed is leading the charge on innovating and changing things in a good way," Austin said, pointing to George Mason's use of microcredentials as "the biggest part of that." He's found that shorter credentials are attractive to modern learners in ways traditional ones aren't—giving learners precisely what they've been missing from traditional education delivery models.
"In the United States, we have about 36 million adult learners who started school but never finished," Austin explained. "They're stop outs, and they have credit. We want to bring them back, but we have a tough time bringing someone back for 120 credits worth of a degree. I have a much easier time bringing them back for a microcredential."
Austin believes the tools for higher ed's success are within reach. When alternative modalities are properly prioritized—as Google clearly knows—Continuing Education and Workforce Development are the institution's secret weapon.
Make Flexibility CE's Prime Strategy
Alternative credentials aren't so "alternative" anymore. The microcredential trend has been shifting upwards for some time, and in 2019, almost 50% of business schools said they were offering microcredentials.
Higher education has the resources to drive learner success; it's just a matter of putting those resources where they're most needed. And for the foreseeable future, that's Continuing Education and Workforce Development.
4 Ways to Stay Agile in Continuing Education
How tailor-made software delivers the flexibility needed for modern campuses to stay competitive.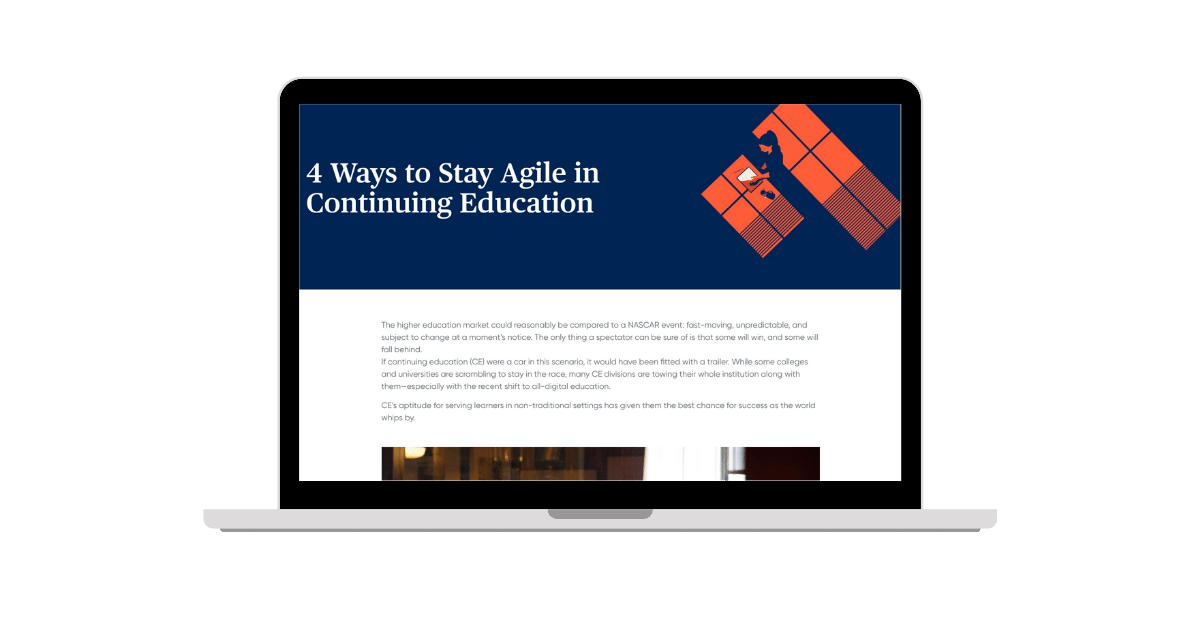 ---
Last updated: March 25, 2022