Maintaining Growth During Uncertainty
Modern Campus is committed to providing non-traditional learners with an outstanding customer experience. The company's SaaS platform, Destiny One, is a student lifecycle management (SLM) software system made specifically for higher education administrators serving non-traditional students.
Destiny One allows colleges and universities to deliver education across the modern lifelong learning lifecycle, supports revenue and enrollment growth through an eCommerce-enhanced customer experience, and delivers the agility needed for today's institutions to be competitive.
In times of crisis, Destiny One is an essential tool to help postsecondary institutions remain competitive and find cost-savings without compromising on the student experience. At Emerson College and Ryerson University, Destiny one was a centerpiece of their response to the COVID-19 pandemic.
Not only did Destiny One allow both institutions to maintain a high-quality experience for learners, but it actually enabled enrollment growth!

Growing Registrations and Enrollments
Destiny One transforms your website into an enrollment engine, and your division into a truly student-centric and flexible education provider.
"
Destiny One is a strategic tool for us, and Modern Campus is a strategic partner for us. We're really delighted with the partnership.
Gary HepburnDean of the Chang School of Continuing Education, Ryerson University
At Ryerson, despite the fact that they had to cancel nearly 60% of their offerings for the spring-summer term in response to COVID-19, they grew their registrations by 7% over the previous year.
"One amazing outcome Destiny One has assisted us with is that we've surpassed our total enrollment in spring and summer session that we had last year with only online courses," said Gary Hepburn, Dean of the Chang School of Continuing Education at Ryerson University.
"Destiny One is a strategic tool for us, and Modern Campus is a strategic partner for us," he added. "We're really delighted with the partnership"
Providing Self-Service Functionality to Learners
In a remote environment, it's essential that students have access to the tools and services they need at their fingertips. After all, it's impossible to maintain business processes that rely on students physically visiting or calling an office.
At Emerson College, the Destiny One SLM was a centerpiece of their response to the COVID-19 pandemic.
"One of the major projects I've been working on has been to move our non-traditional learners to more of a self-service model," said Lesley Nichols, Emerson's Executive Director of Professional Studies. "That came down to upgrading the technology we use for students to manage tasks like registering for classes, paying bills, withdrawing from classes and requesting their transcripts."
Destiny One provides a centralized hub for learners to engage with the college. They can manage their enrollment and conduct basic transactions from the comfort of their home at whatever time is convenient for them.
The timing of the launch of Destiny One at Emerson was especially fortunate. The college took their new system live on March 16, 2020—the same week the work-from-home order was issued!
"We managed to pull off a full-scale software launch in the middle of this pandemic," said Nichols. "Some people asked whether we should postpone it or call it off, but it was the perfect time. It was optimal to be able to provide that service to students."
Creating the Capacity to Work Securely from Home
As a SaaS system, Destiny One is securely accessible by staff wherever they work. This means the transition from an office environment to remote working is seamless and secure.
"With a cloud-based system, our now-remote team was able to transition immediately to working from home," said Nichols. "Having this one system to log into to monitor enrollments, inquiries, and catalog those in a systematic way, has made our responses and customer service much better."
Destiny One maintains industry-leading security standards to ensure information is protected at all times. With up-to-date PCI-DSS and SOC-2 certifications, compliance with all appropriate government and industry standards (including FERPA, FIPPA, GDPR, PA-DSS, and HIPAA) and cybersecurity professionals on staff, Destiny Solutions proves that it takes information security and privacy very seriously.
Launching Market Responsive Offerings Rapidly
One absolutely essential characteristic of pandemic-response is the capacity to move quickly. With Destiny One, the roadblocks to innovation are reduced and divisions can rapidly launch market-responsive programming. This is because Destiny One is not built on the agrarian academic calendar, like most other higher education software solutions.
"There's a whole infrastructure built around a centuries-old traditional model, and many of the systems that we use have been designed around these old models," said Nichols. "We can't simply avoid launching innovative programming because our systems can't handle it. We need that type of programming now more than ever."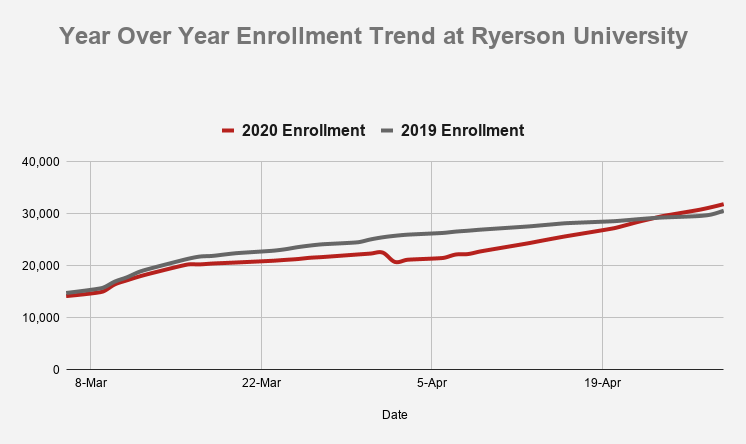 At the Ryerson University Chang School, their response to COVID-19 was swift and aided significantly by Destiny One.
"We found Destiny One wonderful to work with and it helped us do what we needed it to do to react to COVID-19," said Gary Hepburn, Dean of the Chang School. "It was a huge asset when we really needed it to be."
Adapting to Crisis and Preparing for Growth
How the Chang School at Ryerson University is Leveraging Destiny One.
---
Last updated: February 1, 2021