Showcasing Career & Employment Opportunities for Academic Programs
Welcome to the sixth in a series of blog posts that demonstrate how marketing and web teams can bring the power of personalization to life at their college or university. The series follows the staff at a fictional school, Gallena University, on Catheir journey to attract, convert and engage learners using practical personalization techniques. Each blog is accompanied by a worksheet and online workshop so that you can make the Gallena experience a reality for your school.  
More than ever, prospective students and their families want real data about how a college or university helps students land well-paying jobs upon graduation. Tom in Career Services has been tasked with assisting Gallena University's Office of Admissions in communicating the data to students and their families on the homepage, the most visible spot on the website. 
Tom gathers several key statistics to share with prospective students and their families. Then, working with the admissions team, he develops a customized messaging campaign to show how Gallena guides students from enrollment to graduation and beyond. The key statistics become a backbone of the campaign, and using Omni CMS Instinct™, these numbers will demonstrate Gallena's success.
The Instinct Advantage for a Modern Campus
Instinct by Modern Campus is a powerful digital communication tool that Tom and his Gallena coworkers can use to customize and share messaging. For optimal success, they have targeted students in specific areas to receive relevant employment and career data. 
To do this, prospective students who visit a particular academic program page are shown dynamic content on their second visit about specific program graduation rates. On their third visit, students receive custom messaging about companies that hired Gallena graduates. On the fifth visit, prospective students learn about Gallena's career services department and how it helps students find job opportunities and prepare for interviews.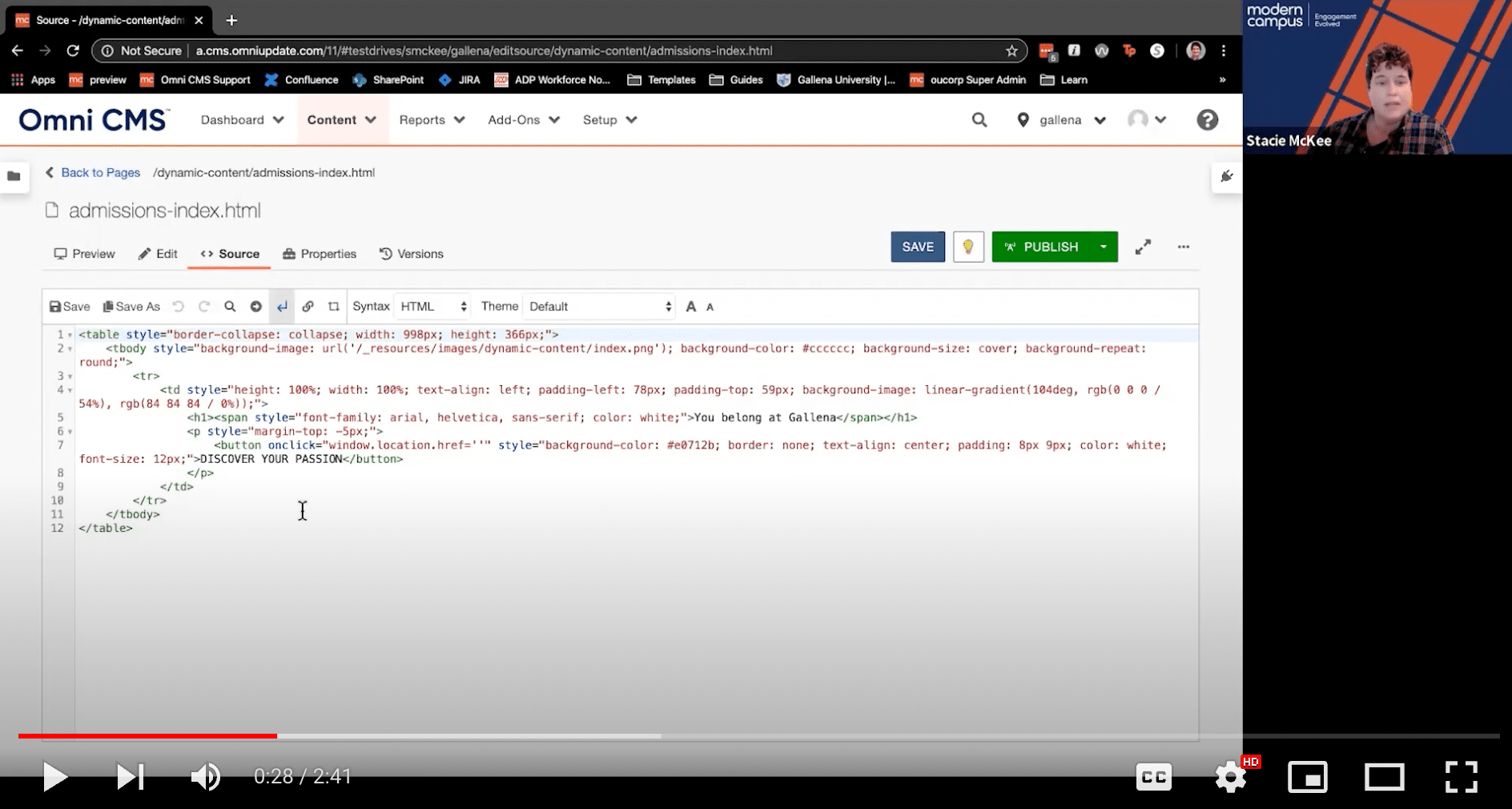 Casey, a high school senior, appreciates that Gallena University offers so many academic programs and student activities. His parents, however, have one question: Will a Gallena degree help Casey launch a career? Fortunately, Casey can show his parents key statistics he has received online about job placement rates from the program he is interested in. He also can share a list of companies that have hired Gallena graduates in the past. The personalization features of Modern Campus Instinct make this type of digital collaboration and sharing possible.
Are You Ready to Supercharge Your School's Enrollment and Admissions Process?
Like Tom and the Gallena admissions team, your college or university can use Instinct to do big things to show propsective students the ROI for this college degree. Even before you know your website visitor's name, Instinct helps you understand their interests and then uses that information to offer tailored content and messaging that the student is looking for—at the right time.
Don't wait. It's time to transform your website into a next-generation digital experience with rich personalization that dramatically increases digital engagement.
Read the first 5 blog posts in this series:
---
Website Personalization Pathways Website Content Management
Last updated: June 22, 2022