Why Flexibility Comes First for the Modern Learner

Higher education, in the traditional sense, is a massive investment for your learner. The demand for degree-bearing programs isn't as strong as it once was, and it's no wonder: For all the value they add, they're too unwieldy for today's average learner. Many don't have four years and a surplus of capital to drop all at once, and strike the traditional degree from their list without further consideration.
Most Learners Aren't Pursuing Traditional Credentials
It should come as no surprise that almost 70% of learners can be classified as "non-traditional"; learning outside the conventional structure of for-credit education. The programs and courses they choose to enroll in offer them one thing traditional education doesn't: flexibility.
Faith in the current structure of higher ed has somewhat diminished, and many argue that the continued focus on traditional credentials is largely to blame. One survey found that 60% of U.S. respondents believe a Google internship has more career value than a Harvard degree. It's an unnerving statistic, and it must be a call to action for institutions putting most of their eggs in the degree basket.
Your learners want to pursue higher education, but their access is dependent on the time in their schedules and money in their pockets. They need learning pathways that accommodate their lifestyles and drive them towards lucrative, long-term employment.
Alternative Credentials Accommodate Your Learner
Nearly 7 out of every 10 learners want to fill their education gaps with alternative or non-degree credentials. At universities, they're being called upon to continuously develop and demonstrate new skills. At community and technical colleges, learners are in dire need of pathways to higher learning that don't ask them to part with money they don't have for certifications that may land them a better job (or any job).
That's why microcredentials are so appealing to modern learners. Aside from discretely communicating clear competencies in job-specific areas, they appeal to your student's need for just-in-time education. Without the lengthy and costly commitment holding them back, microcredentials free your student to pursue higher learning at their own pace.
Higher Ed Leaders Support Microcredentials
9 out of 10 higher ed leaders say microcredentials support their competitiveness against emerging entities, with 7 out of 10 saying alternative credentials will help them hit their revenue and enrollment goals.
But while 88% of those leaders say new credential initiatives are aligned with their institution's strategic plan, only half of them say their institutions are prioritizing microcredentials.
Learners are finding these degree alternatives more viable every day, as the adaptability they offer is invaluable in their daily lives—here's why.
Stackable Education Lets Students Learn at Their Own Pace
Only 41% of first-time full-time college students earn a bachelor's degree in four years, and only 59% earn one in six years. One major factor is time: A learner with a family, for instance, has a particularly difficult time even completing such a program.
For many learners, education must work around their schedules to even be considered as an option. A four-year engagement that asks them to put their professional and personal lives on hold simply isn't feasible for working learners.
Just-in-time Education Brings in Newcomers
Many of these learners will choose to move towards a degree if allowed to do so in their own time.
This is a gap that microcredentials fill perfectly. When a traditional program is separated to represent its constituent skills, the result is a series of "stackable" credentials that add up to the equivalent of a degree. The knowledge and practical skills demonstrated are the same—they're just built over a longer period of learning.
The difference this makes for your prospective learner cannot be overstated. Here, the microcredential transforms what is traditionally a once-in-a-lifetime process into an ongoing practice; an education they can opt into and out of as they need. Now, a learner that would've never had time for a degree has a path forward.
Shorter Credentials Allow for Smaller, Recurring Payments
There's no two ways about it—unless your learner has limitless income at their disposal, a degree (or even an advanced diploma) can be a massive expense. Balancing personal and family budgets can be hard enough without the tens of thousands of dollars spent on the average degree program in the U.S.
That figure alone can force many learners to opt out of traditional education. Plenty of learners just don't have the resources to pony up that much at once, and incurring hefty student loans (an average of $37,500 per full-time student in 2020) is not an attractive option for most.
Microcredentials Attract Spending-Conscious Students
A credential that costs less is priceless to your learner. The high price point of a degree is a sticking point for many, no matter how much they value the credential.
By shifting to a more open model of credentialing, learners who would've been priced out of enrolling in any program at your institution now have a seat at the table. Some will leverage their more cost-effective credentials to enter your degree-bearing programs, while others may enroll in one or more credentials and be on their way (ones who wouldn't have enrolled at all, mind you).
In either case, the microcredential positions your institution to serve the modern learner's needs while expanding your own reach towards new audiences.
Microcredentials are the Future of Higher Ed
Higher education is fully capable of adapting to the changing needs of its market. Continuing Education and Workforce Development units in particular have been doing so for decades now.
All that's needed to reap the rewards is for institutions to fully embrace the microcredential—the same way their learners are.
Learn how modern credentials can transform your community or technical college's growth.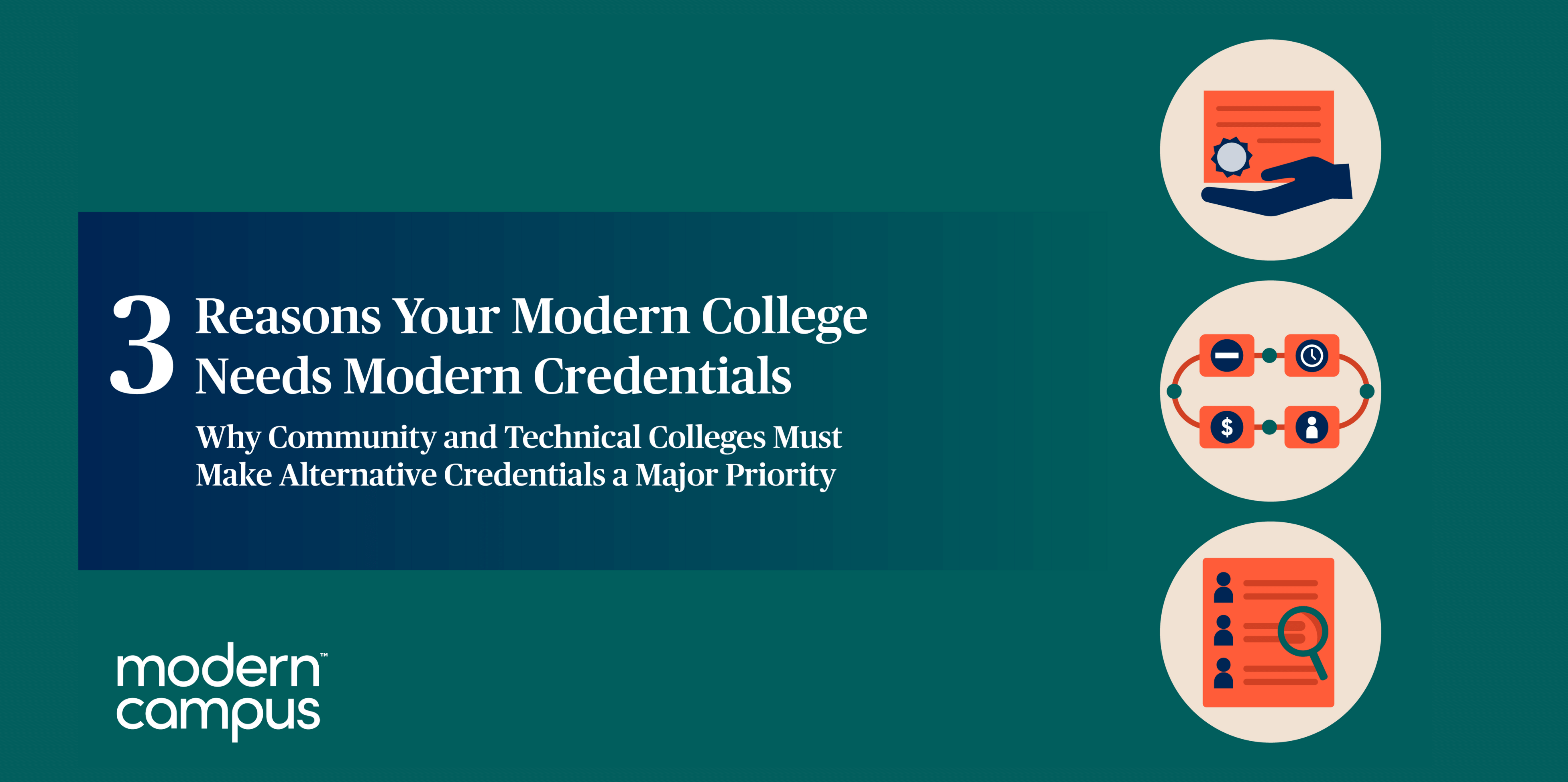 Learn how to leverage microcredentials to scale your university.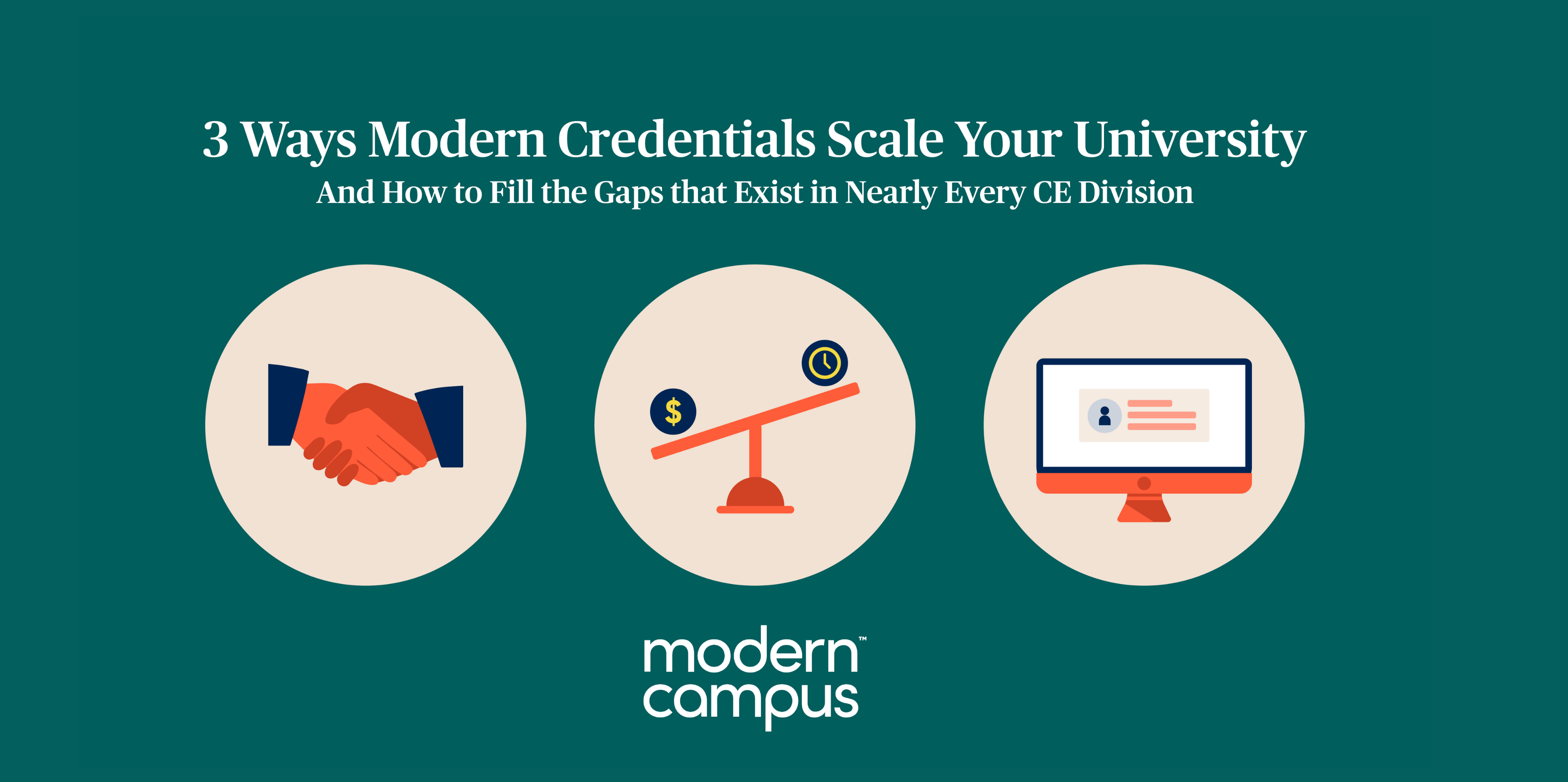 ---
Student Lifecycle Management Credentialing
Last updated: August 31, 2021