10 Factors to Help you Select a Content Management System for Higher Ed
Oftentimes, colleges and universities will redesign their website but put off selecting a content management system (CMS) because it extends the project in time, scope and expense.
However, undergoing a website redesign without assessing your college CMS is like buying a car without considering its engine. Your website might look really great from a design perspective but if it's not powerful enough, it won't get your school where you want to go.
That's why taking the time to select the right content management system for your higher ed needs is so important. Different systems have different features and choices and it can be overwhelming to have to weigh each option.
However, you can ensure that you end up with the best CMS for your college or university by asking this question at every turn:
Will this CMS help my institution work smarter, innovate, communicate effectively and create lifelong relationships as we work to transform prospects into students, students into graduates, graduates into career professionals and career professionals into lifelong learners?
It's a big ask.
It's also the question that everyone at Modern Campus seeks to answer each time we update and supplement our award-winning Omni CMS.
Let's take a look at CMS features you should consider when choosing a content management system for higher ed.
CMS Feature 1: Designed for Higher Ed
Higher education is constant changing, and it has very specific nuances, technology requirements, accessibility concerns, government restrictions and customer needs that a one-size-fits-all CMS can't handle. Equally important is having a system designed specifically to serve student needs, one that easily integrates with all the third-party higher ed systems your school uses. If a CMS is not designed with higher ed in mind, you'll have to constantly be looking for work-arounds to address your school's specific needs.
Why Omni CMS
"
OU Campus is always ahead of the curve. Because of their expertise and market knowledge, they are solving problems for us before we even know what the problems are. It is extremely valuable to have resident experts on hand who stay current with trends.
John EbbingDirector of Marketing and Communications, Southeastern Community College
CMS Feature 2: Supports Student-First Engagement
Students want a highly personalized online experience much like what they encounter with Netflix and Amazon. The best CMS for higher ed will deliver personalization at every touchpoint to spark interaction and prompt students to engage further with your school. Look for a CMS that features:
Anonymous User Personalization

that displays dynamic, personalized content based on a student's location and website behavior.

Light Personalization

that displays simple content blocks automatically when visitors trigger specific features.

Known User Personalization

that uses data from your SIS or CRM to provide students with individualized content and calls to action based specifically on their enrollment status.
Why Omni CMS
"
We use Omni CMS to reduce bottlenecks and increase efficiency. Once things that can be automated are automated, we allow our staff to do the uniquely human things. This way our experts can focus their time and energy on what they do best. It comes back to the human-first approach, but relies on technology to be successful."
Eric TurnerAssistant Director, Web and Portal Services, Mt. San Antonio College
CMS Feature 3: Empowers Users
It doesn't matter how powerful your CMS is if users don't understand how to use it. Buy-in is critical to the success of any new product adoption. The best CMS for higher ed should empower users and be the easiest to use.
Look for a CMS that allows for unlimited decentralized content contributors who can quickly create and revise content with in-context WYSIWYG editing and built-in features at their fingertips such as:
Page Wizards

Image Editing

Drag and Drop
In-Context Editing

Gadgets

Tag Management
Likewise, a CMS that puts power in the hands of its users also has a robust content approval system with:
Instant Publishing

Multi-Browser Preview

Quality Checks, W3C& accessibility validation

Multi-Output Preview
Why Omni CMS
"
A developer can work with anything, but the majority of users have simple technological skill sets. They might not understand how a website or CMS works, but they know that they can drag and drop content and publish it. Therefore, people of all technical skill levels need to be able to use it. Fortunately, we have flexibility with Omni CMS.
Mark RimarDirector, Web Services, Saint Louis University

CMS Feature 4: Includes Career Pathways
More than ever, students are looking for a return-on-investment when it comes to education. To give them what they want and expect, you need a CMS that includes guided pathways software that lets you embed real job outlook and labor market information directly into program and academic webpages. Whether a student is concerned with getting a higher salary or learning a new skill, your higher education website lays out the path with courses and programs they need to take and labor market data that streamlines their search. 
Why Omni CMS
"
College is expensive, and it doesn't make much economic sense to have a student find themselves while receiving higher education, like I used to be 50 years ago. As long as all of your decisions revolve around what is best for the student, you're going to do the right thing. Keep the student at the forefront of all of your decisions.
Ann BucheleVice President of Academic and Student Affairs, Linn-Benton Community College
CMS Feature 5: Comprehensive Support
It's no fun to go it alone, especially when it comes to technology. From migration and implementation to troubleshooting and maintenance, you want a CMS supported by a knowledgeable, friendly, accessible customer support department.
Some questions to ask include:
Do you have 24/7 client support?
How large is your support staff?

Where is your support staff based?

Will you have a designated customer support contact?

What is your average response time?
The CMS you choose should be complemented with an online support site, HelpDesk, knowledge base, feedback forum, ongoing training and API documentation.
Why Omni CMS
"
I now understand that Modern Campus provides a different level of service. They went above and beyond to save the day. It's great to have good customer service when you have routine issues, but in drastic situations like a Category 4 hurricane, it's a necessity to have Modern Campus on your team.
Sherry Davis,Webmaster, Gulf Coast State College

CMS Feature 6: Sophisticated Web Governance
If you're going to invest in a quality CMS, choose one that automates routine tasks and frees your time to focus on more important projects. Look for a CMS with administrative quality control features such as:
Pre-defined or custom reports generated on-the-spot

Site-wide file size upload limits

Global find and replace searches

Customizable user levels from one to 11

User permissions at the site, directory, file, page, or region level
Support and management of unlimited websites and sub-sites

Automatic updates for dependency links in the CMS

Restricted template definitions for any given section of the site

Unlimited creation of custom WYSIWYG toolbars

Reusable assets such as code, forms, and image galleries
Pre-formatted HTML snippets that users can edit

Enforcement checks for spelling, links, W3C validation, and Accessibility

before

publishing
Why Omni CMS
"
Omni CMS made my job easier—so easy that by implementing the CMS, half of my job responsibilities went away. I no longer have to perform mundane content updates but can now focus on what I really want to do.
Angela CavaliereManager of Digital Usability, Montgomery County Community College
CMS Feature 7: Digital Engagement Management
Your website is the hub of your institution's digital engagement activities so your CMS should include an interactive dashboard to manage content from all of your social media platforms. This makes it so much easier to streamline your media campaigns across multiple channels. Look for a CMS that:
Allows real-time engagement by simultaneously posting content on social media and to your social media hub.

Curates content using user names, pages or specific hashtags.

Provides an interactive display of all content including forms and image galleries.

Integrates important metrics from Google, Twitter, Facebook and more.
Why Omni CMS
"
OU Campus was obviously so much better than the other options. It hit the high points of what we wanted and gave us the flexibility and scalability that we needed… there's not much I have to play around with because OU Campus pretty much does everything we need.
Dan BuckleyWebmaster, Midland College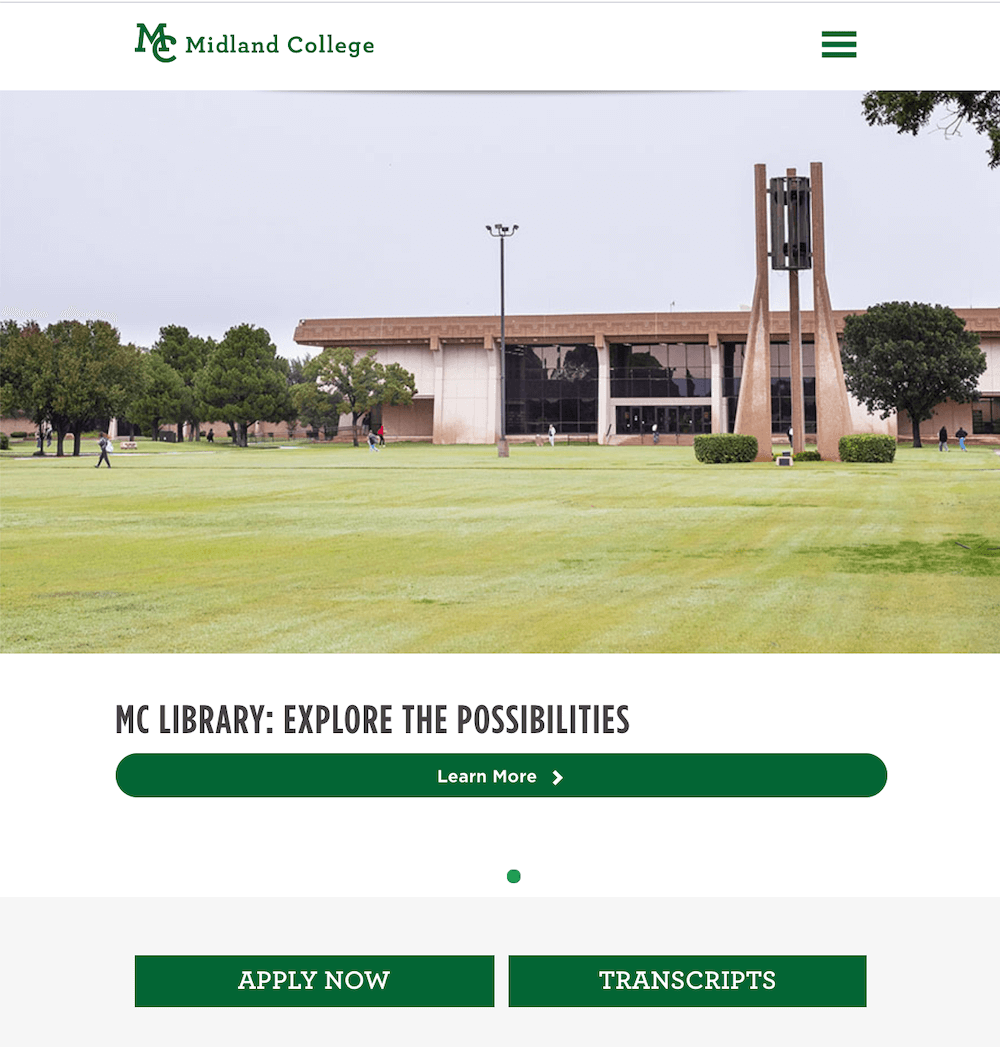 ,
CMS Feature 8: Total Solution
Does the CMS include the necessary tools you need to do your job plus all the bells and whistles that make your job easier? A good list of must-haves includes:
Custom Search

that dives deep into your site

A virtual interactive

Campus Map

to bring your campus to life

An

Insights

 tool that finds and offers solutions for weak SEO, accessibility issues, invalid links and misspellings

Email Campaign

manager for creating, sending and managing emails directly from the CMS
A dynamic and easily searchable academic

Course Catalog

A detailed

Faculty Directory

Emergency Alerts

to quickly post custom emergency announcements from anywhere

A

Blogs

feature for engaging visitors with fresh content

A custom integrated

Calendar

that's centralized and interactive
A

Calculator

so that students can see tuition, fees and merit aid opportunities
Why Omni CMS
"
Omni CMS is a total solution partner because of the support and different modules. Omni CMS always has something that supports what we want and need to do.
Charlotte KohWebmaster, University of South Florida
CMS Feature 9: Peace-of-Mind Security
With growing threats of cyber-attack and breaches, the potential risks and costs to higher education are higher than ever. A CMS for higher ed must have automatic security and maintenance updates, real-time monitoring of security threats and the ability to be managed remotely, even from home. All of these features are included with software-as-a-service (SaaS) cloud-hosted technology.
Why Omni CMS
"
With the SaaS version of Omni CMS, I know that our servers are being maintained by the experts at Modern Campus which takes the stress off of our IT team. I have comfort in knowing that the system is solid and proprietary and that Modern Campus professionals who know the ins and outs of the system are there if I need them.
Benson HendrixDigital Media Manager, New Mexico Institute of Mining and Technology
CMS Feature 10: Built-In Accessibility Controls
For higher education the need to stay compliant is critical, and the reputational and financial risk of not doing so is enormous. Just ask any college or university that has received an OCR letter. Accessibility compliance means that your website should not pose any barriers to someone who has a disability—no matter what the disability is. It goes without saying that you need a CMS that not only meets WCAG 2.1 accessibility standards but also gives you a way to scan your website for accessibility errors and then fix them.
Why Omni CMS
"
OU Campus allowed us to address major concerns with accessibility even when we had not yet hired a webmaster with technical expertise. The accessibility check really got us out of the woods so that we could focus on migrating our content.
Leia HillAssociate Vice President of Enrollment, East Mississippi Community College
Effective digital engagement doesn't just happen. You need a robust CMS to power your website so that you can make meaningful connections with students. Modern Campus and Omni CMS will help your institution work smarter, innovate, communicate effectively and create lifelong relationships as we work to transform prospects into students, students into graduates, graduates into career professionals and career professionals into lifelong learners.
But don't take our word for it—just ask any one of the 800 colleges and universities that partner with Modern Campus to engage modern learners for life.
Request a demo of the Modern Campus platform
---
Last updated: June 22, 2021